I never expected to anything to come from joining the ArtWalk in Brunswick, ME. For one, the ArtWalk is mostly craft works. There are some fine artists, but very few abstract artists show here. Because I'm new to the area, I've been trying to drive traffic to my studio at the Fort Andross Mill. The ArtWalk is well-attended, so I figured I'd catch someone's attention there. What ended up happening was behind the scenes, and I got my first public art commission out it.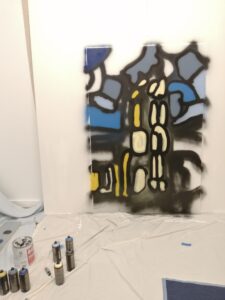 The process was simple. The Downtown Association sent out an email and I responded with a simple application. I had a few images that I had done with good success, and I told the committee I'd do both murals in this style. They accepted my proposal, and work began in early August of 2021.
What's crazy here is that I was working full-time and at the same time of the commission, my wife went away for six weeks to do research at a university away from where we live. That left me working, walking the dog two hours per day, doing all the household duties, and then working about 30 hours per week in-studio on the two murals. I was exhausted when it all ended, but they came together nicely.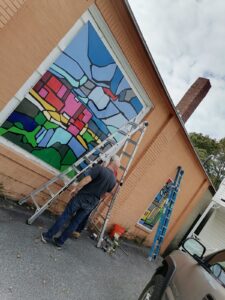 Finally, after weeks of working over 70 hours per week between my job and on the murals, and with my wife finally back from her work travel, I was able to relax a little, hang the murals and wait for the opening. Due to some scheduling conflicts, the murals were up for a couple of weeks before the unveiling, but the day finally came and we had a decent crowd.
I thanked everyone who sponsored the project, gave a small speech, and heard great positive feedback. In fact, I've had many people come up to me to tell me how much they like the new work. They are located on a busy street right next to a grocery store. I imagine there will be a lot of eyes gazing upon them for years to come.